Sports
Wout Weghorst 'close' to Man Utd move, says Erik ten Hag, but not in time for Manchester derby | Football News
Manager Erik ten Hag says Man Utd are close to sealing a deal to sign Wout Weghorst on loan – but that he will not join the club in time for Saturday's Manchester derby.
There were hopes that United would have the Netherlands striker ready to face City at Old Trafford in the lunchtime kick-off, but Ten Hag confirmed ahead of the game that Weghorst had not been registered by the Friday midday deadline.
"I think we are close," Ten Hag told reporters when asked about the Dutchman. "But he wouldn't be available for tomorrow. Hopefully it will be soon, he will be there."
United may be buoyed by Anthony Martial's inclusion should the striker recover from a leg complaint in time for the match, but otherwise will again be limited on forward options with Burnley striker Weghorst's move still incomplete.
One player who will definitely be missing is Donny van de Beek, who Ten Hag confirmed has been ruled out for the rest of the campaign by injury having played only 195 this term in another frustrating season.
"On the long term it is looking really good, he will be back for the start of pre-season," Ten Hag said. "The rest of the season he is out.
"I think everyone's thoughts are with him. It is terrible when you are in a season and you get a bad tackle, a bad injury. It is always really disappointing and thoughts, feelings are with the player. You express that, our group did that really well, and we are now happy his knee in the long term is good."
Ten Hag: Casemiro is among world's best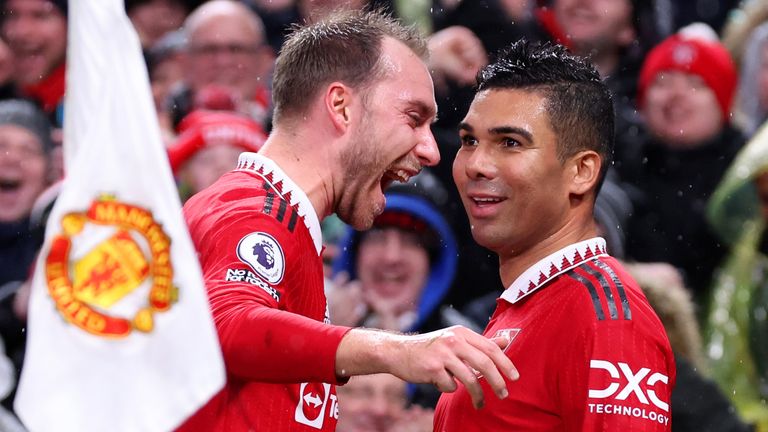 The Manchester United manager was also asked about the impact £60m summer signing Casemiro has had at Old Trafford since his move.
 WATCH THE VIDEO
Since the return of domestic football last month, United have conceded just one goal in six games in part thanks to the Brazilian's domination in midfield, and he again showed his attacking side with a goal of his own in the 3-0 win over Bournemouth on January 3.
Ten Hag was glowing in his admiration for the 30-year-old, who has already made himself an invaluable part of United's midfield.
"He is so important," the manager said. "He's the cement between the stones. Defending it's organisation, anticipating, supporting players in the right position, winning balls for the team and duels.
"But also in possession, he can speed up the game. He has that ability to give to a top team.
"There's not many who have this quality in the world, he's one of them so we are really happy to have him – he makes a huge difference."
Promote your songs, articles, business brands, or any advert on HypedCity.Com Contact us @ WhatsApp: +2348038020910, Email: israelurenn@gmail.com